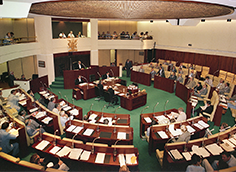 Since its construction, the Undumbi Room has been used:
As a temporary chamber for the Legislative Assembly during the 1979 – 82 refurbishment of the Old House (pictured left)
As a media room during the 1980s-90s.
It was set up for virtual sittings during COVID-19, while usual proceedings in the Legislative Assembly Chamber were suspended.
Generally, it is used for conferences, Committee hearings and briefings, as well as Parliamentary Education seminars and school visits.
'Undumbi' means the gathering of the Aboriginal clans from the Moreton Bay coastal area. In 2004, the then Speaker of the Legislative Assembly, Hon Ray Hollis, commenced the renaming of these rooms and Queensland Parliament invited the Jagera and the Turrbal people to submit names. Elders from the First Nations community in Brisbane decided on the name 'Undumbi'.