The entrance lobby features Minton tiles from England. They are known as encaustic tiles because the pattern and colour are formed by inlaying coloured clay before the tiles are glazed and fired. As a result, none of the patterned tiles have had to be replaced since they were first laid when the building was constructed.
This staircase leads from the ground floor entrance to the Legislative Assembly Chamber and the Members' Reading Room on the first floor,and then to the visitors' galleries and the O'Donovan Library on the second floor.
POINT OF INTEREST: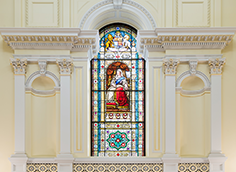 STAINED GLASS WINDOWS
Detailed stained glass windows feature on the lower and upper levels of the grand staircase.
The most significant features Queen Victoria, the reigning monarch at the time of Parliament's construction, sitting on her throne with the towers of Westminster Palace in the background.
Commissioned by the first Speaker of Parliament, Gilbert Eliott, this piece symbolically represents the 'Mother of Parliaments'.