The smaller room was used by Lord Mountbatten during the Prince of Wales visit in 1920. It is now used by the Office of the Clerk staff.
It was formerly the Leader of the Opposition's room and the original cedar desk remains. The room also features a white marble chimneypiece, similar to that of the Speaker's Office.
The door leading from the main corridor retains its original H & T Vaughan mortice lock.
POINT OF INTEREST: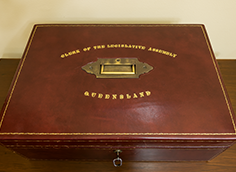 The Bill Box.
This is the box the Clerk uses to take Bills to present to the Governor for royal assent.