The larger room was originally the Speaker's Office, which linked via a connecting door to a smaller a 'retiring room' or bedroom. The larger room is now used for the Office of the Speaker staff.
Both rooms are embellished with plasterwork, including floral cornices and a particularly ornate ceiling rose on the chandelier, which dates from the 1950s. The room also features a chimneypiece similar to that in the O'Donovan library, which retains early fireclay pieces in the grate, and a clock that is believed to date from 1868.
POINT OF INTEREST: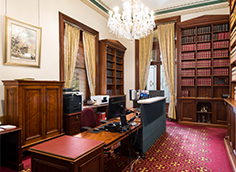 Outside the Speaker's Office are the photographs of past Speakers of the Queensland Parliament, dating back to the very first Speaker, Gilbert Eliott, who served in the role from 1860-70.