The most significant events held on the Speaker's Green are the swearing-in ceremonies of new Governors and the traditional garden party that follows the official opening of each new parliament.
The Speaker's Green provides an important breathing space between the nineteenth-century Parliament House and the modern Annexe building and reflects Tiffin's original design for a courtyard surrounded by four wings.
The area features some significant trees, including a Bull Bay Southern Magnolia (Magnolia grandiflora) in the north corner which has been dated to approximately 1895.
A feature added to the Speaker's Green after the World Expo '88 was one of that event's popular 'human factor' figures.
POINT OF INTEREST: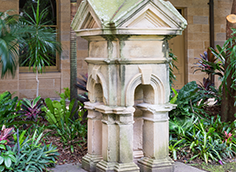 PINNACLES
Two sandstone chimney flues, also called terminals or pinnacles, stand on the northern side of the Speakers' Green. These were salvaged during their removal.
The George and Alice Street wings originally had numerous chimney flues located around the rooflines, which were both ornamental and practical. They defined the bays formed by windows and arcades and where necessary, also incorporated from fireplaces and lights inside Parliament House.