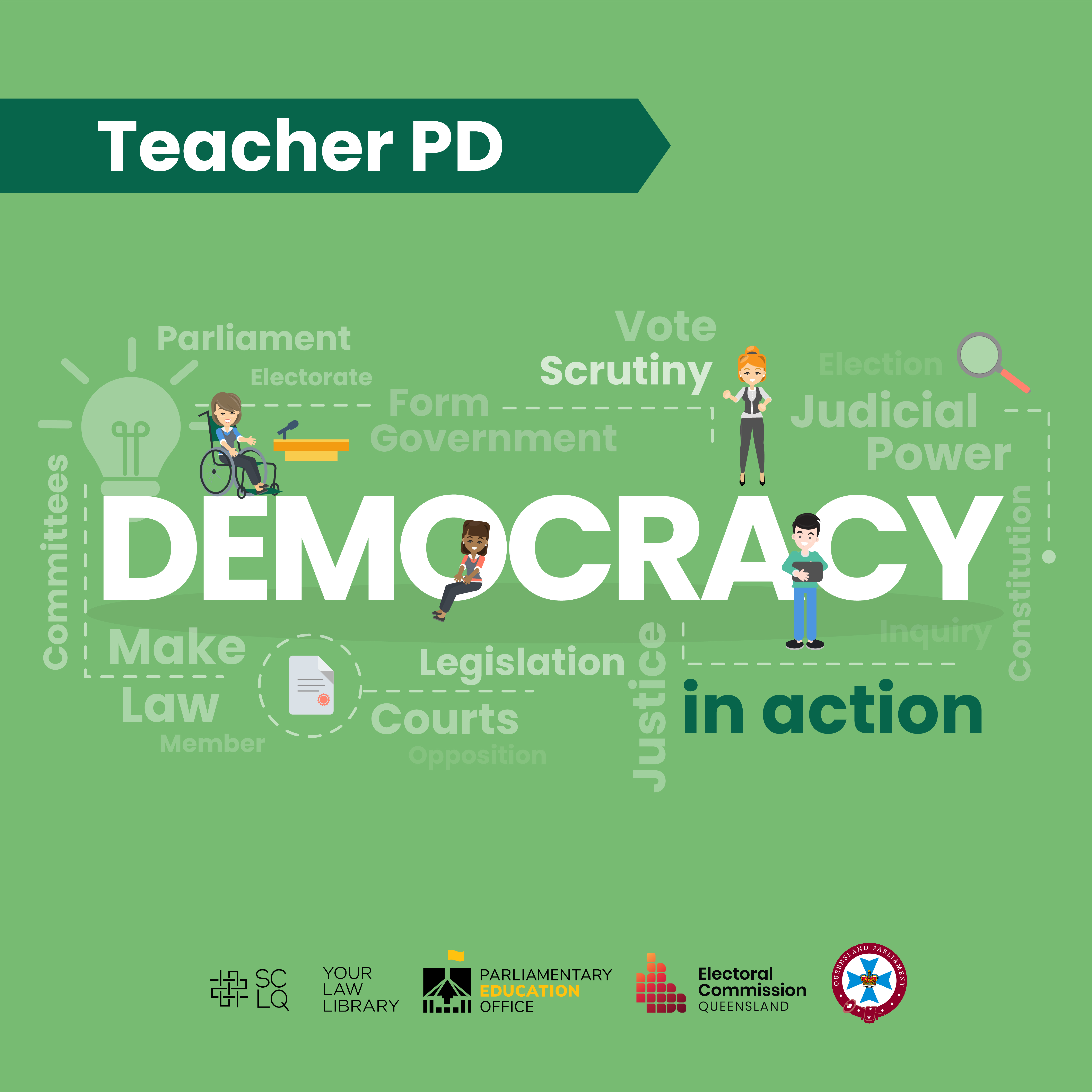 The Parliamentary Education Team offers several professional learning opportunities for teachers and school staff to further their understanding of parliamentary processes and governance in Queensland:
Click here to find out more about our Professional Programs, including half-day and full-day seminars at Parliament House in Brisbane and full-day seminars in different regional centres each year.
Teachers of Civics or Legal Studies may consider joining our Teacher Advisory Group - scroll down for more information on TAG.
Or, join us for one or more of our free online seminars throughout the year:
Democracy in Action - Professional Learning Series 2023
Democracy in action is a series of free online professional development presentations to enhance your knowledge and understanding of our democratic system of government.
Facilitated by the Queensland Parliamentary Service, Parliamentary Education Office and Supreme Court Library Queensland, you'll learn about key features of our representative democracy and the history of our legal system.
Join us to discover and develop new skills, activities and resources for use in your classroom!
Term 1
Wednesday

29 March

4.00 - 5.00pm

Making law within a dynamic society

During this session you will:

learn more about the two main sources of law, statute law and common law

deepen your understanding of the legislative process and how judges make law

explore why laws may require change.

(Unit 3, Topic 1)

Click here to register your attendance
Term 2
Thursday

27 April

4.00 - 5.00pm

People in parliament and the courtroom

During this session you will:

discover the roles and responsibilities of the key people within our parliamentary and court system

discuss and analyse issues surrounding diversity and representation.

(Unit 1, Topic 3 and Unit 3, Topic 1)

Click here to register your attendance

Tuesday

6 June

4.00 - 5.00pm

Committees at work

During this session you will:

explore the scrutiny work of Parliamentary Committees

gain practical tips on how you can access and use role plays to enhance your students' knowledge and understanding on this topic

learn how stakeholders can be involved in the law making process as witnesses at hearings or through submissions.

(Unit 3, Topic 1)

Click here to register your attendance
Term 3
Wednesday

19 July

4.00 - 5.00pm

Making and applying Human Rights Act 2019 (Qld)

During this session you will:

explore the role of Parliament in the development of Human Rights legislation in Queensland

investigate how the law has been applied by analysing a case study.

(Unit 4, Topic 3)

Click here to register your attendance

Friday

1 September

Student-Free Day Session

2.00 - 3.00pm

Learn with us: let us create an immerse learning experience

During this session you will:

view a range of immersive onsite and online programs to enhance students' knowledge and understanding of parliament and the court system

listen to tips on how to get the most out of one of our education programs.

(Unit 1, Topic 3 and Topic 4; Unit 3, Topic 1)
---
Australian Professional Standards for Teachers outcomes Professional Knowledge:
Content and teaching strategies of the teaching area 2.1
Content selection and organisation 2.2.2
Professional Practice:
Use teaching strategies 3.3
Select and use resources 3.4
Professional Engagement:
Engage in professional learning and improve practice 6.2
Engage with colleagues and improve practice 6.3
CONTACT
Rebecca Quinnell
Team Leader – Education and Liaison
07 3553 6413
parliamentary.education@parliament.qld.gov.au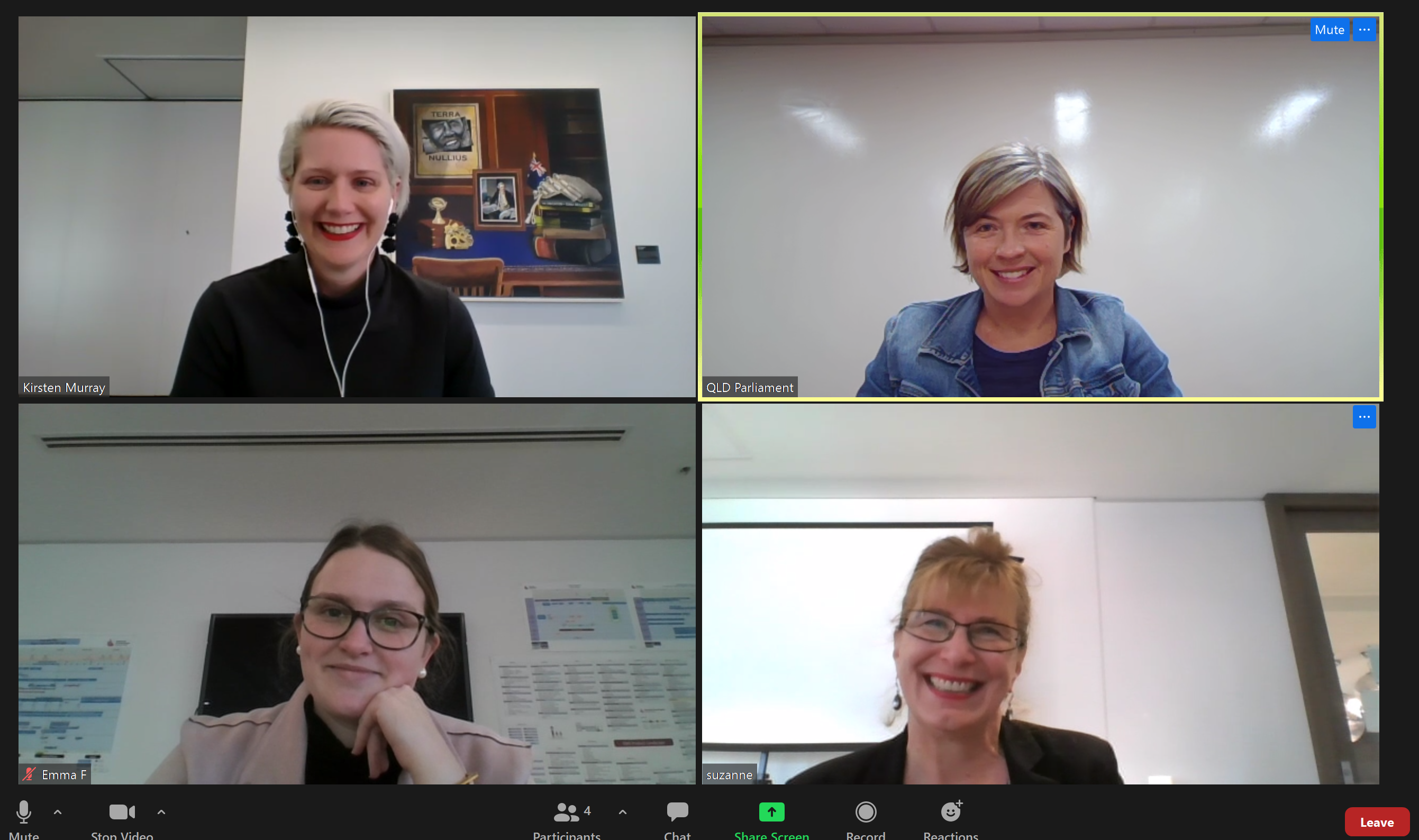 Teacher Advisory Group
The teacher advisory group brings together educators from various levels and sectors of education in Queensland, to assist in the development of Parliamentary Education resources. Parliamentary Education will work with the group to improve awareness of the role of the Legislative Assembly, its committees and members in our democratic system of government.
PURPOSE
Provide insight and advice on the development of activities, events and resources in line with the curriculum and contemporary classroom practice
Identify opportunities for broadening the reach of the program, particularly to engage with educators and students in regional and remote communities
COMMITMENT
Group members are appointed for 12 month terms, and may seek continued membership. Parliamentary Education may renew nominations during the 12 month term if needs arise.
The Teacher Advisory Group meets quarterly. Advice may be sought from panel members in between meetings via email or phone appointment.
Click here to download a nomination form.
All teachers currently registered in Queensland are welcome to apply, regardless of year level or education sector.
Please email parliamentary.education@parliament.qld.edu.au for more information.