WELCOME TO THE LEGAL STUDIES YOUTH PARLIAMENT PAGE
This year's Legal Studies Youth Parliament will be held on Friday 17 March 2023.

The Youth Parliament is an exciting opportunity for year 11 and 12 Legal Studies students to debate a motion on a youth issue or speak in an adjournment debate about any issue falling within the jurisdiction of the Queensland Parliament.

The Youth Parliament is hosted by the Queensland Parliament and will be chaired by the Speaker, the Honourable Curtis Pitt MP.

Nominations open at 8am on Monday 6 February and will close at 5pm on 10 February.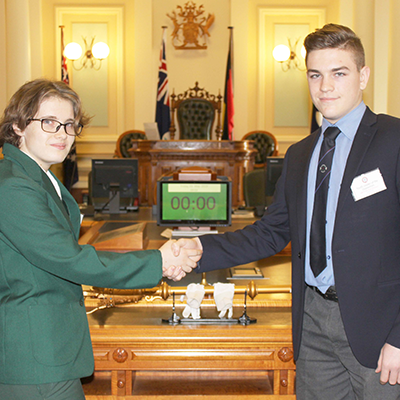 FAQs
How many students can I nominate?
Schools are invited to nominate up to a maximum of 4 students from Years 11 or 12 who are currently studying Legal Studies.

What are the commitment for students and teachers?
Initial Briefing (teachers only)


A teacher from each school that participates in the Youth Parliament is required to attend one of the following briefings via video conference:


3.45pm - 4.30pm Tuesday 14 February
7.30am - 8.15am Wednesday 15 February
3.45pm - 4.30pm Thursday 16 February

Teachers can nominate a choice of briefing during the registration process.
Unfortunately, schools with no representative at a briefing will not be able to participate in the Youth Parliament.
Preparation (students)
All participating students are required to prepare either a speech on the Youth Bill or a one-minute speech on any issue for the Adjournment Debate. Students selected for key roles will have additional opportunities to speak.
Photo and Media consent
The Legal Studies Youth Parliament is conducted as a true to life experience, which includes Hansard recordings and transcripts for participating schools. As a result, all students wishing to participate are required to have photo consent.

Please note that the media often attend Youth Parliament and students may be photographed or filmed.
Contact
Rebecca Quinnell
Team Leader - Education and Liaison | Queensland Parliament
(07) 3553 6413
parliamentary.education@parliament.qld.gov.au