Upcoming Events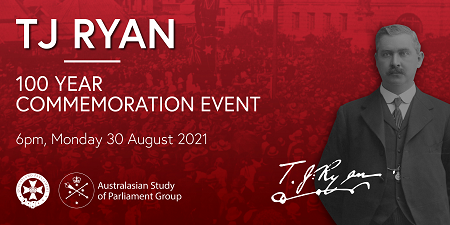 100 Year Commemoration Event: TJ Ryan, former Premier of Queensland
Monday 30 August 2021 - from 6pm, Legislative Council Chamber, Queensland Parliament
The Queensland Parliament and the Queensland Chapter of the ASPG is proud to commemorate the life and work of former Queensland Premier TJ Ryan.
An evening of scholarly analysis, featuring an introduction from Hon Curtis Pitt, MP, Speaker of the Legislative Assembly and speakers Emeritus Professor Kay Saunders AO, Dr Raymond Evans, Dr Tom Cochrane and Dr Mary Crawford.
Closing entertainment provided by community group, WILPF Performers for Peace, who will perform a work to celebrate TJ Ryan's anti-conscription campaign.
Ticket includes refreshments provided on the beautiful President's Verandah of Parliament House.
2021 Scholarship Prize now open
The ASPG-Q Prize for Parliamentary Scholarship 2021 is now open.
1 June 2021
Nominations are now open for postgraduate students enrolled at any university located in Queensland to enter an article in the field of the study of parliament as a critical institution in the democratic process.
Nominations close 30 September 2021 with the winner notified in November 2021.
A prize of $1000 is available to the winner.
More information and terms and conditions available here.
Recent Events