Thanks for visiting us at Brisbane Open House in 2023!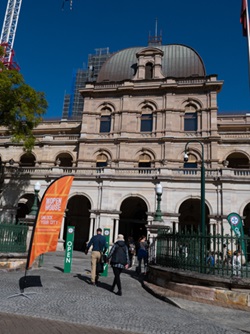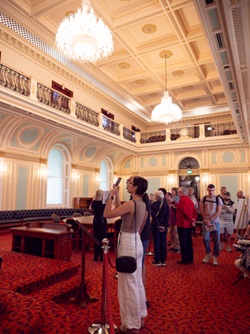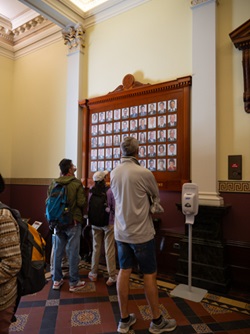 Queensland Parliament House open Sunday 16 July 2023, 10am-2pm.
Journey through the heart of democracy in Queensland, including Chambers and rooms occupied by Members of Parliament since 1868. Visitors are invited to Parliament House for a self-guided walking tour.
Queensland Parliament House was built between 1865 and 1868 to the design of the Colonial Architect Charles Tiffin. It was Queensland's first purpose-built parliamentary building, replacing temporary chambers in former convict barracks on another site.
The building was remarkably ambitious for a young colony. It is a three-storey, sandstone structure in the Renaissance Revival style, with its mansard roofs, projecting tower-like structures and arcades recalling the Louvre. Initially, the building was to be four wings ranged around a courtyard, to house both Parliament and public offices, but was not completed in that form.
The building was extended in 1888-91 and a high-rise Annexe was added in the 1970s to provide additional offices and services, including meeting and function facilities, and overnight accommodation for Members. The nineteenth-century building was extensively renovated in 1981-82 and continues to house Queensland's Parliament.
The original building layout remains intact, with the principal rooms located on the first floor. The George Street wing, the earliest, contains the double-height Legislative Chambers and the original Libraries, though the Council Chamber has not been used since the Council's abolition in 1922. The later Alice Street wing contains offices and Members' facilities. The building interior is ornate and the principal rooms retain much of their original, purpose-made furniture.
Queensland Parliament House stands on an important site in inner Brisbane next to the Botanic Gardens and the former Domain and overlooking a bend of the Brisbane River. The whole site is entered in the State Heritage Register and is subject to the provisions of the Queensland Heritage Act 1992.
Please note there is limited wheelchair access and no access for prams. Prams will have a designated parking area.